Full Container Load/LCL
Be it full container load or less than container load, we have experts to guide you the best economically way for your shipments. Think of shipping it out of the country or bringing in we have solutions to both.
Project/Special Cargo
Out-gauge, odd dimensional or project cargo, we have dedicated and experienced team who manoeuvre it from the port of loading to the port of discharge with adequate care.
Air Cargo
We appreciate your value of time. If your cargo is time-sensitive we can handle it with the best air liners in job today ensuring you quality service with minimum transit time.
Surface Transportation
With our well distributed road transporting network, hauling it right at your doorstep is an easy task for us. We also deliver cargoes to Nepal and Bhutan by road making it easy to get your shipment in these rough terrains. Not only domestically, our strong agent partners can give you a total logistic solution without any hassle.
CUSTOM BROKERAGE
Custom processes can be much of a task at times. Bias Shipping is there to help you out. Right from preparation of custom docs, filling shipping bills and bills of entry to custom examination and clearance of the cargo we offer you this and much more.
HAZARDOUS CARGO
Some cargoes require special care and responsibility towards our environment. In Bias Shipping, we expertise in taking care of your hazardous cargo and delivering it safely to your customer following all security guidelines.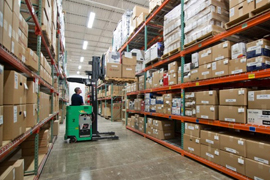 WAREHOUSE FACILITY
We have facility management and inventory management system to preserve your cargo properly. Along with that we can provide bonded warehousing facility with both manually as well as labour driven system.
VALUE ADDED SERVICE
Along with all the other services we also cater to the below need of yours. We assure that when you choose us, you will get the premium quality services from us.
a) Packaging/Palletisation/Fumigation of your goods.
b) Coastal run services within India.
c) Milk run facility and distribution to one buyer many seller or one seller any buyer situations.